Keychain is an indispensable small item in our daily life, used to carry and organize keys. Although they may seem simple, their style and design can reflect personal taste and preferences. When buying keychains, different people should choose different types of keychains according to their needs and personalities. When we want to choose a keychain for a specific person, we should consider their interests, preferences and usage needs. This article will take a look at the different types of keychains, and which options are suitable for different groups of people.
How to Choose a Keychain for a Specific Person?
1. Consider Interests and Hobbies
When choosing a keychain for a particular person, first consider their interests and hobbies. If they like sports, they can choose a keychain with related sports graphics; if they like music, they can choose a keychain with musical notes or musical instruments. Choosing keychains based on their interests can better express care and personalization.
2. Consider occupation and use case
Different occupations and usage scenarios may require different types of keychains. Business people usually need a simple, elegant and high-quality key chain to show a professional image; while students may prefer interesting and personalized key chains to show youthful vitality. Considering their occupations and usage scenarios, choosing a suitable keychain will be more intimate and practical.
3. Consider personalization
If you want to give a unique gift to a specific person, you can choose a personalized keychain. Customized keychains can be designed according to their names, birthdays, important dates or special patterns, plus options for different craftsmanship, such as rainbow keychains, epoxy keychains, etc. Making the keychains a unique and special gift with more commemorative meaning.
4. Consider the Number and Size of Keys
Some people may need to carry multiple keys, while others only need one or two. For those who need to carry many keys, it will be more practical to choose a keychain with a larger capacity; for those who only need to carry a small number of keys, you can choose a simple and compact keychain for easy portability.
5. Consider Quality and Material
Quality and material are factors that cannot be ignored when choosing a keychain. High-quality key chains are usually made of durable materials, such as stainless steel, genuine leather, acrylic, etc., to ensure that they will not be damaged after long-term use, and can also increase the comfort of use.
Different Types of Keychains for Different Groups of People
For those who pursue fashion, it is very important to choose key chains with unique designs and eye-catching fashion. They can choose keychains with trendy elements, bright colors or trendy logos to show their fashion sense.
For those who pursue fashion, it is very important to choose key chains with unique designs and eye-catching fashion. They can choose keychains with trendy elements, bright colors or trendy logos to show their fashion sense.
People who love nature and the outdoors can choose keychains themed with natural elements. For example, wooden key chains, plant patterns, landscapes, etc., can all meet their love of nature.
Housewives or househusbands usually need a practical and convenient keychain. Family photos, family initials, or simple and fun designs are sure to be a hit with the housewife or husband.
For kids, they love fun, cute keychains. Choosing keychains with cartoon characters, animal prints or glowing effects will add interest to children and help them identify the keys.
For seniors, it is important to choose a key fob that is convenient to use and easy to hold. Keychains with obvious markings, large designs, or soft textures will be more suitable for the needs of the elderly.
When choosing keychains, different people should choose the appropriate style according to their own preferences, personality and usage needs. Whether it is pursuing fashion, practicality, fun, or embodying unique personal characteristics, the most important thing is that the choice of key chain should meet the personal preferences and styles of a certain group of people. Everyone has different tastes and preferences. Only by choosing a key chain that suits their taste can the gift be more meaningful and warm. Whether it is a gift for family, friends, colleagues, or as a souvenir of an event, carefully selected keychains can convey our care and blessings. Choosing the keychain that suits you makes using your keys every day more enjoyable and fun.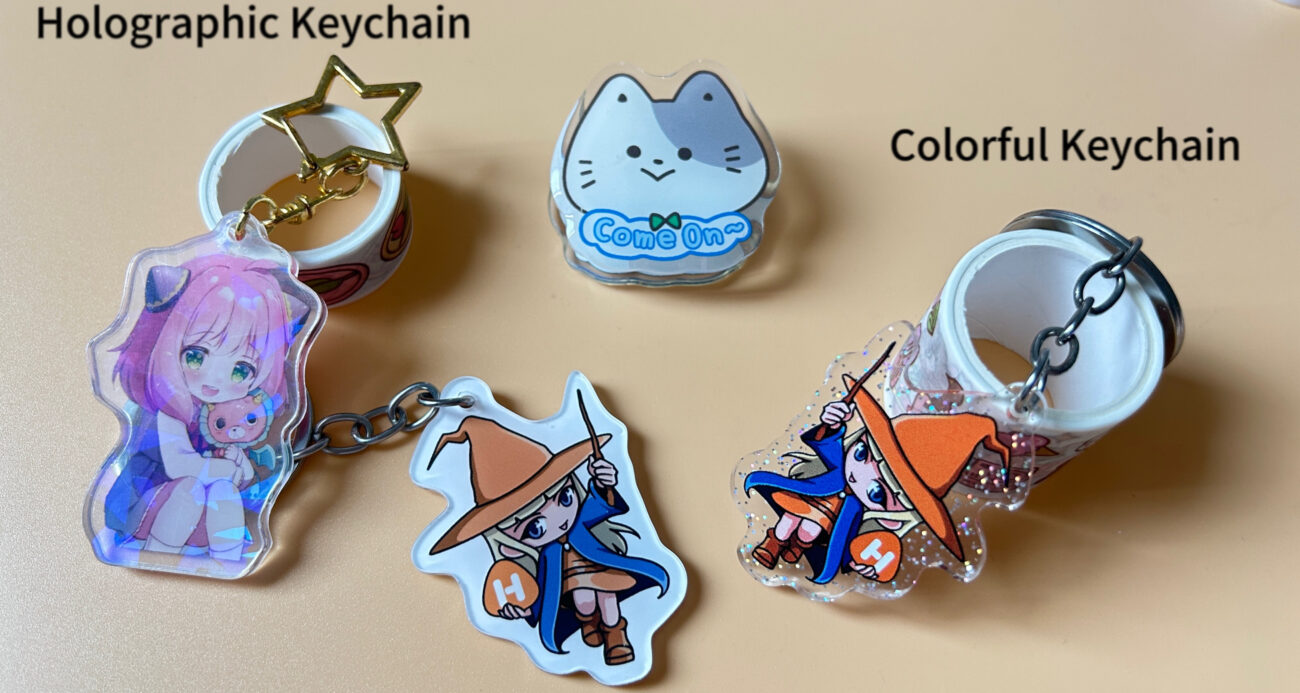 So are you looking for a manufacturer that can meet your custom needs? Hamfai will be your best choice. We not only use high-quality acrylic materials to make key chains, but also provide more different craft effects, holographic keychain, colorful keychain, etc. As long as you have ideas, we can make yours Ideas become reality.
Make your own Charm
Make Creativity Reality