In today's competitive marketplace, businesses are constantly looking for cost-effective ways to promote their brand and connect with their target audience. Custom keychains have become a popular and affordable option for personal branding and promotional purposes. A personalized keychain is a way to show off your personal style and unique personality. And cheap custom acrylic key chains offer you an affordable yet eye-catching option. Acrylic keychains are transparent, smooth, and sturdy, allowing you to create colorful designs and patterns.
Custom acrylic keychains are a unique way to showcase your personal style and hobbies. You can choose the shape you like, such as heart shape, star, animal image, etc., and then add patterns, names, slogans, or any elements you like according to your preferences and personalized needs.
A distinct advantage of custom keychain is the versatility they offer in design options. Businesses and individuals can choose from different shapes, sizes and materials to create unique and eye-catching key chains. Whether it's a simple logo, a catchy slogan, or a full-color artwork, such as holographic keychain, the design possibilities are nearly endless. This level of personalization ensures that the keychains accurately reflect the brand identity and message.
Inexpensive and Practical
Acrylic keychains are a very affordable option compared to other custom items. They are relatively cheap to make and thus available to you at a low price. This makes it easy to have multiple keychains for different personal styles for different occasions or situations.
Custom acrylic key chains are also a unique gifting option. You can DIY keychain according to the preferences and interests of your friends, family or colleagues, and stick your favorite custom stickers on the transparent acrylic board. making them a personal and heartwarming gift. Whether it's a birthday, holiday, or special anniversary, a gift like this will leave a lasting impression on the recipient.
Promotional and Publicity Tools
For businesses, custom acrylic keychains are also an effective promotional and publicity tool. Businesses can put their brand identity or logo on keychains and distribute them as giveaways to customers, partners or event-goers. Such a custom keychain will not only increase brand awareness but also add a personal and gracious image to the business.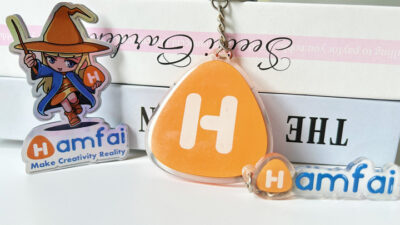 Employee Motivation and Recognition
Custom keychains are not only used for external branding but also for internal purposes. Businesses can create custom key chains as employee recognition awards or motivational gifts. These signs of appreciation boost employee morale, improve company culture, and create a sense of belonging among employees.
Simple Production Process
The process of making a custom acrylic keychain is relatively simple, just choose a shape, design a pattern, and leave it to a professional manufacturer to complete. You can find many manufacturers that provide customized acrylic key chain services on the Internet, and it is easy to find a manufacturer that suits your needs, such as Hamfai. The customization process of hamfai is very simple, and it can quickly understand your customization requirements and make a keychain that satisfies you.
Small Size, Easy to Carry
Acrylic keychains are usually small and lightweight for easy portability. You can put them in your keys holder or hang them on your handbag, let your personality show at any time, and share your unique style with others.
Cheap custom acrylic keychains offer you the perfect opportunity to show off your personal style while still being affordable. In addition, hamfai offers BUY MORE PAY LESS. Whether it is a personal fashion accessory or a corporate promotional tool, such a custom keychain can make you stand out from the crowd and show your unique personality. Come and customize your own acrylic keychain, let it become a beautiful scenery in your life.
Make your own Charm
Make Creativity Reality