As a traditional handicraft, enamel pins are famous for their brilliant colors and exquisite craftsmanship. This ancient handicraft has experienced the baptism of history and is still loved and collected by people. Custom enamel pins can not only show a personalized style, but also can become a unique symbol of an individual, team or enterprise.
An enamel pin, also known as a lapel pin, is a small decorative pin made of metal filled with colored enamel. Enamel craftsmanship originated in the ancient Middle East and Egypt, and was later introduced to China, India and other countries. It was not until the 3rd century AD that enamel technology was introduced to Europe and became a popular handicraft in the Middle Ages. Enamel pins were originally used to adorn the costumes and palace buildings of nobility and royalty, and were admired for their bright colors and lustrous luster. In the Middle Ages in Europe, enamel pins were widely used in religious, political and social activities, becoming a symbol of power and status.
Crafting Skills for Enamel Pins.
Making enamel pins is different from acrylic and tinplate pins, enamel pins are a complex craft skill that requires multiple processes:
– Making the substrate: first make the metal substrate, such as copper, silver or gold.
– Drawing a pattern: To draw a pattern on a metal substrate, you can use colored enamel powder or wire.
– Firing: Put the painted metal substrate into a high-temperature furnace for firing, so that the enamel powder melts and adheres to the metal.
– Grinding and polishing: After firing, grinding and polishing are carried out to make the surface of the enamel emblem smooth and bright.
How to Custom Enamel Pins?
First, decide on the pin design you want. You can use computer software or freehand sketches to create designs, including patterns, colors, and details. You can also seek the help of a professional designer to make sure the design meets your expectations and needs.
Decide on the size and shape of your desired pin. The shape of the enamel pin can be round, square, heart-shaped or irregular like the acrylic badge, and the size can be selected according to your preferences and purposes.
Choose the metal material for the pin, such as copper, iron, or stainless steel. Then decide whether the pin needs metal plating, such as gold, silver, black nickel, etc., to increase the appearance effect.
4. Determine the type of enamel
Choose the type of enamel, which can be hard enamel or soft enamel. Hard enamel is more durable and has a smooth polished finish, while soft enamel has a textured finish and is more affordable.
Choose a professional pin manufacturer. Hamfai can provide you with professional customization, just submit your design and requirements to Hamfai. We will make samples according to your requirements for your review and confirmation.(Hamfai can also provide product such as acrylic badges, keychains, standee, and stickers)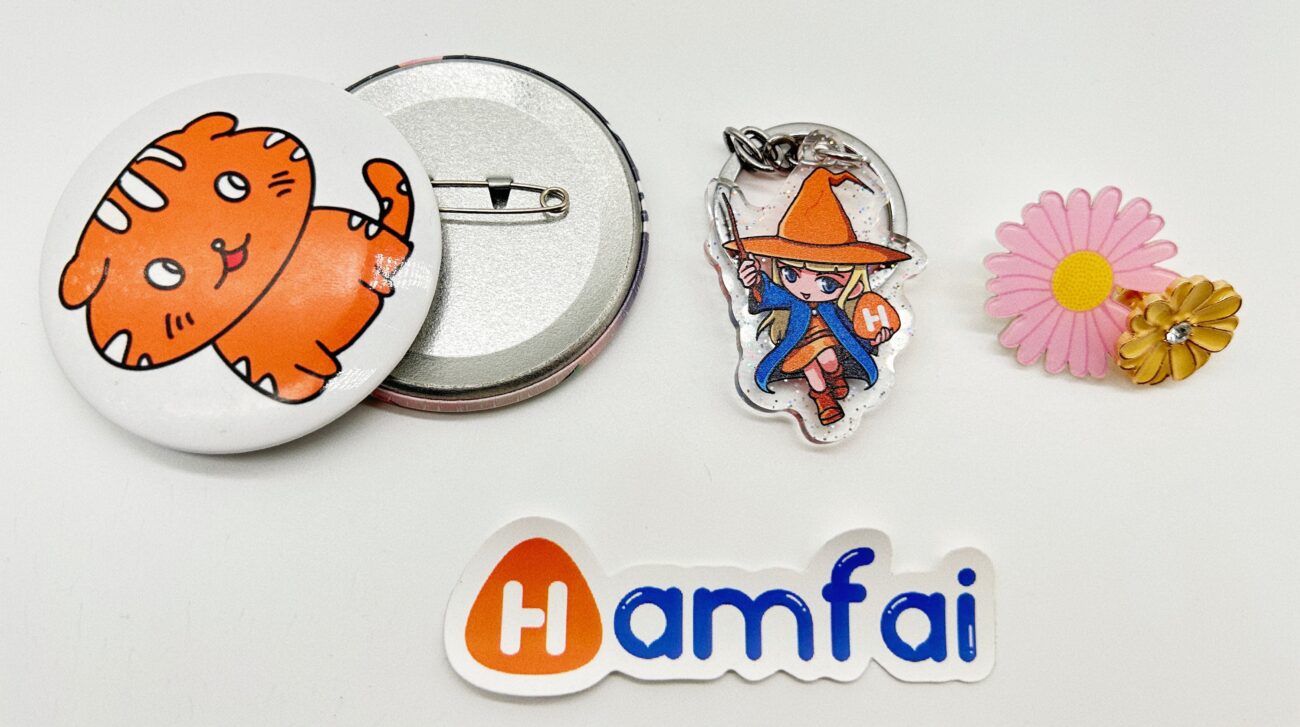 Application of Enamel Pin.
Today, enamel pins are still widely used in modern society:
– Personal Decoration: Wear it on your body as a brooch, pin or pendant, etc., to show your personal taste and unique style.
– Gift giving: As a precious gift, give it to your relatives and friends to express your deep friendship.
– Memorabilia: As a keepsake, use to commemorate important moments and events.
– Brand promotion: Incorporate corporate brand logos or iconic elements into the design of enamel pins to increase brand awareness and image.
Appreciation Value of Enamel Pin.
Enamel pins have high appreciation value because of their unique colors and exquisite craftsmanship. It not only shows the skillful hands of craftsmen and the creativity of artists, but also carries the memory of history and culture. Each enamel medallion is a unique work of art, breathtaking and captivating in their beauty and grandeur.
The enamel pin is a kind of artwork carrying traditional craftsmanship. It has a long history and exquisite craftsmanship, showing human wisdom and creativity. Enamel pins remain a beloved ornament and gift in modern society. They are not only a beautiful work of art, but also a treasure that inherits history and culture. Let us appreciate and cherish these unique and charming enamel pins and feel the artistic beauty they bring.
Make your own Charm
Make Creativity Reality