With more than 600 episodes since its premiere in 1989, The Simpsons is one of the few successful, long-lived TV shows. It is not only the longest-lived sitcom and animated show in American history, but also won 25 Emmys, 26 Annie Awards and one Peabody Award. Of course, the high value of the animation is not only because the show is long enough and wins enough awards, but also the Simpsons' classic image appears in every aspect of American city. It even sold its merchandise for millions of dollars. Products for the Simpsons are very popular, such as co-branded clothing, shoes, skateboards, and the Simpsons' toys. But beyond that, do you know any other products about the Simpson family?
In addition to clothing, shoes and these products, we can also choose custom Simpson key chains. You can send us your favorite photos of the Simpsons. Or click on the custom key chain to enter the store and upload the image of the key chain you want to customize. Our key chain is made of transparent and tough acrylic material, smooth surface, very beautiful. You can also add any text you like to the picture and make the Simpson Keychain with words. You can also choose different technique, such as epoxy, holographic and rainbow. And choose different shapes. No matter what style or color you want, we can make it for you, and the price is very cheap.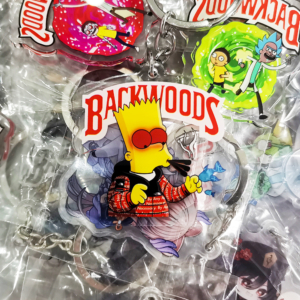 In addition, you can customize the Simpson standee or Simpson badge at hamfai. Our standee is also made of acrylic materials. Unlike the key chain, the standee can be erected on a table, while the key chain needs to be hung on a backpack or key. And except for the acrylic badge, We also have the tinplate badge.
At hamfai you can also customize stickers with Simpson patterns as well as fridge magnets. In short, you can communicate with us about any creative ideas, and we will customize your own personalized products for you. If you're interested in other anime characters, or if you want to customize a photo keychain about you and your friends as a gift or souvenir, you can trust hamfai to customize unique personalized items for yourself.