Now, when it comes to the hottest cartoon works, Most people think of Rick and Morty. This imagination work from the US ADULT SWIM cartoon channel (an cartoon channel in the US CARTOON NETWORK). It's a wonderful adventure of a crazy scientist, Rick Lao, and his grandson Morty. The plot content is full of wonderful science fiction material, and the events that they did in different parallel world seem absurd, but it is full of thinking about human nature and society. Once broadcast, it was loved by the general audience. The number and scope of fans of this work gradually spread from the United States and began to spread to the world.
Although this episode is only 20 minutes per episode, but each episode is very informative, the picture and plot are not redundant, let the audience feel mind-twisting, but also trigger the audience to think about the philosophy of life. Cartoon should be a fantasy art, the reality can not think and not do things into pictures, intuitively express people's feelings. This imaginative cartoon does this, so it is not only a cartoon, but also a display of the adult's inner world.
If you're a fan of the show, you would want to have a product about the show. Like the merchandise, clothing, furniture, and so on. Besides, don't miss out on custom Rick and morty products. Such as custom keychain, custom standee, custom badge, cup cushion and so on.
You just need to give us your favorite pictures about Rick and morty, tell us about your requirements, we will customize high quality acrylic key chains or acrylic other products for you. Our key chain is made of transparent acrylic material, which is very beautiful and interesting. You can wear the key chain on your backpack zipper, or on your key. At the same time, we can add specific text or patterns to the key chain according to your request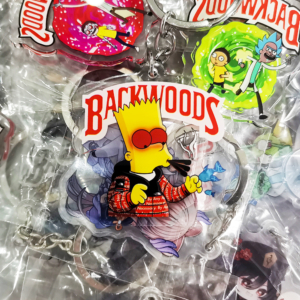 You can also customize the Rick and morty's standee. Standee is a kind of decoration placed on the table or counter. We take advantage of the transparency and flexibility of acrylic to make a unique standee design.
Or customize the acrylic badge about the Rick and morty. The badge is a small and exquisite ornament that can be used for accessories, clothing, handbags, etc. We use acrylic plasticity and processing techniques to create badge designs of various shapes, colors and patterns. Not only do these badges have collectible and decorative value, such as decorating your clothes or hats, but they also allow consumers to better show their love for rick and morty.
In addition to these products, in hamfai, you can also choose different types of model and technique, such as acrylic lollipop key chain, acrylic non-clear key chain. You can choose rainbow, holographic, epoxy about technique. Rainbow key chains can change in various colors in the light. Star and broken glass holographic emits colorful stars and broken glass patterns in the light. We also have stickers and fridge magnet. Stickers also have different techniques, and you can customize your Rick and morty stickers, stick them to your hand ledger, or decorate your room.