Today's custom pin & badge are as creative as they are commercial. Many custom pin & badge to promote charities or causes. These creative acrylic keepsake pin & badge are also a great means of spreading awareness. Companies also use custom acrylic pin & badge for advertising and branding, but also offer custom pins as merchandise to their loyal customers, fans and followers. Also wearing a custom pin & badge is a fun and stylish way to showcase your interests, support a cause, or add flair to your outfit.
In addition, what else does the pin & badge do?
These decorative cartoon aesthetic pins can be applied to many craft decorations, sweaters, backpacks, jeans, clothes, jackets, coats, bags, hats, each of which has a different style, creativity and fashion, wearing it can make you become the focus of various occasions, such as parties, dating, festivals or banquets.
Pin & Badge are often collected as souvenirs or markers of events, organizations or places visited. You can express your care and thoughtfulness by sending them to your wife, girlfriend, mother's birthday party, Valentine's Day, graduation ceremony as a decent and suitable gift on Memorial Day, Mother's Day, Children's Day. They are tangible reminders of experiences and can have sentimental value.
Pin & Badge allow individuals to express their interest, affiliation, or support for a specific cause. They can represent a hobby, fandom, political or social cause, or simply showcase a unique design that appeals to the wearer.
Pin & Badge have become a popular fashion accessory, allowing individuals to add a personal touch of style.
Pin & Badge are sometimes used to indicate membership or affiliation to a group, organization, or club. They can be worn at events by staff, volunteers or attendees as a form of recognition or to foster a sense of belonging.
Pin & Badge offer a versatile and customizable means of self-expression, enhancing their personal style. They are popular due to their visual appeal and ability to convey information or connection in a wearable form.
How to wear the pin & badge correctly?
Usually the badge is worn on the left side of the chest. There are allusions to why it is worn on the left side. In ancient China, there was a "left is the respect" etiquette. When looking at others, they usually start from the right side and the other side's left side. Look, so the badge is generally worn on the left side, not only to express respect, but also to be easily seen by others.
This has options for some popular wearing positions including
– Lapel or Collar: Attach the pin to the lapel or collar of a jacket, blazer, or coat. Place it on the left side, near the heart, or wherever it looks best.
– Shirt or Shirt: Pin the badge to the front of your shirt or shirt, near the pocket or chest area.
–Bag or Backpack: Attach the badge to fabric or straps to decorate your bag or backpack.
– Hats or Caps: Pin your badge to the front or side of your hat or cap. Make sure they are securely connected to avoid loss.
So we should pay attention to the following points when wearing the Pin & Badge.
Depending on the occasion and event, specific wearing requirements may apply. For example, a formal occasion or workplace may require the badge to be worn in a designated location or in a specific manner. In this case, the corresponding regulations shall be followed.
In an international environment, different cultures and countries may have different wearing habits and meanings. If you wear a badge in a particular culture, please respect and follow local traditions and manners.
Most importantly, however you wear your badge, make sure it projects an image of respect, accuracy and dignity. If there are any special instructions or regulations, it is best to refer to the guidelines of the relevant agency or organization.
How Pin & Badge Work With Clothing?
The matching of wearing pin & badge and clothes is also particular, mainly in the color matching of clothes. When wearing badges, pay attention to matching with the color of clothes, so as to be more beautiful. In terms of the color of clothes, black clothes are consistent with badges of all colors. It is more versatile.
In terms of the style of the pin & badge, you can choose the way to wear it according to the style of the clothes. For example, when wearing casual clothes, you can wear a larger badge. As mentioned above, black clothes are more versatile, and suits are generally in the style of predominantly black, at this time wearing a badge can be worn on the collar.
When wearing badges, if you choose an enamel badge, you can choose a badge with a magnetic style, which is easier to wear. If you wear multiple pin & badge with different patterns, you can arrange them in a specific pattern or grouping. Experiment with different combinations to create a visually appealing display. You can group them together, line them up, or create a unique arrangement that reflects your personal style.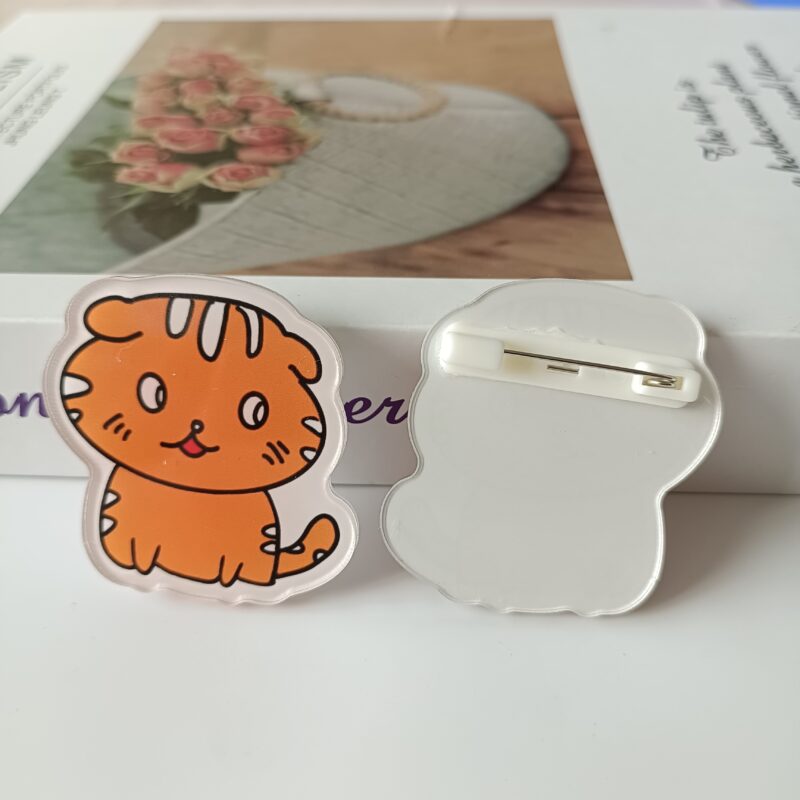 Be Careful With the Fabric
1. When securing the pins, be careful not to damage the delicate fabric. Avoid snagging thin or fragile materials that may tear easily.
2. If necessary, use a backing material, such as a piece of felt or fabric, to reinforce the area where the dowel will be attached.
1.Be careful when wearing the pin badge to avoid skin punctures. Make sure the pin badge is secured where you can't easily reach it to prevent it from being bumped or dropped.
2.If you are wearing a relatively heavy badge, you need to add a spur buckle to increase the stability of the badge so that it is not easy to fall. For extra protection and retention.
Wearing the pin & badge correctly can make you show a different style and attract more attention. Wearing a badge of your own style is a form of self-expression. By customizing the pin & badge, you can design the pattern, text, color, shape, etc. you want according to your needs and preferences, reflecting your own characteristics and personality. Hamfai can provide pin & badge customization to make your personality shine!