For most people, the keychain is a rubber belt or metal ring.But in fact, it can also have more profound meaning and richer colors.It can be the name card of the company's brand, the yearning for someone, the keepsake with someone, and the symbol of fashion.Acrylic keychain can perfectly cover these meanings, and you can customize your own unique acrylic keychain.Acrylic keychain has rich colors, light weight, easy to carry, and is very durable and strong molding.It can be shaped into a series of interesting and strange shapes.Its colors and patterns can be customized according to various activities and used as gifts.For example, customize the design and title of Thanksgiving, Halloween and Christmas as gifts for your family or friends.Or you can customize beautiful and novel keychain for your car and mobile phone.
So,Which Fashionable Acrylic Keychain Can Be Customized?
With the development of the internet, we have seen more beautiful pictures and animation,Do you have your own pictures or cartoon characters you like? Customized acrylic keychain, you can take pictures to share thire beauty with others at any time.If you have a friend who loves cartoon animal heads,you can also customize the keychain for your friend as a gift.
This is an excellent amulet idea.If you have a favorite character or a letter that means a lot to you, you can customize it as a keychain.For example, "love", "happy", "luck", or the name of your family, your favorite holiday name, place name, and country name.You can use these keychains as Valentine's Day gifts, party gifts, or greetings to visit patients.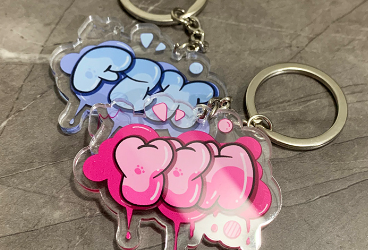 3.Logo
This is an interesting way to publicize your company or school or team.The customized logo acrylic keychain is placed in the office or worn on it when going out for business, which is a symbol of identity.A mobile company logo will be of great help to the development of the company, and will make others impressed and have a good impression on the company or learning or team, because it can make you look more approachable.You can also give these logo keychains to your customers or students or teammates as brand gifts. Your brand will be very special because of these customized acrylic keychains, which has special significance for your customers, students and teammates, and they will never leave you.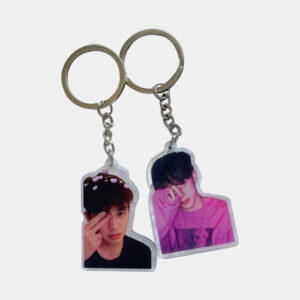 4.Photo
Photos record our yearning for someone or something, the scenery we have seen and the things we have met, and our happiness.But we will not take a photo alone because it is too inconvenient and the photo is easy to be damaged.However, printing the photo on the acrylic keychain will not only harm the photo, but also be very convenient to carry.You can use it to decorate your handbag, mobile phone, belt and key. You can also print your and your lover's photos and customize them into keychains to exchange with your sweetheart.He takes your photo acrylic keychain, and you take his photo acrylic keychain.In addition, you can also customize pet photo acrylic keychain. You can see all kinds of cute expressions of your pet at any time.
Customized Unique Acrylic Keychain
The unique acrylic keychain reflects your unique style. This is a personalized keychain that only belongs to you.You can hang it on your mobile phone case or backpack, or use it as a bookmark, a gift, or a home accessory to decorate your life.