The business keychain can be used as a business card for a corporate brand. Customizing a business keychain is not only a fun and stylish idea, but it also increases your company's visibility, and Attract others and introduce your company to others in a friendly way, closely follow the trend of The Times.
So, How to Advertise for Your Company by Making Business Keychains?
When it comes to making a business keychain, many people may think of a metal key chain with a company name. But such keychains always feel unattractive to customers. Therefore, we suggest that you customize interesting acrylic keychains. Different from the traditional keychain, the acrylic keychain shape is very beautiful, and very creative.
1.Acrylic Logo Keychain
Customized display company logo keychain is a more traditional way. But if you use an acrylic keychain, you can make your key chain more colorful and more beautiful by adding different technique, sizes, and designs. Your keychain will be more stylish, and this stylish style will make your customers feel more impressive about your company or product.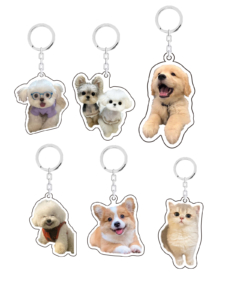 2.Acrylic Product Picture Keychain
If you want to promote your product or service, you can increase their interest in the product by giving them customized acrylic product photo keychains when they buy the product. It is even possible that the customer buys products because he wants a keychain more. Because the acrylic keychain is a lovely and fashionable work of art. You can customize acrylic product photo keychains of different shapes or colors for the same product, or customize keychains for all different products. Because some customers like to collect art, they will buy products to collect a whole set of pictures.
3.Acrylic Photo Keychain
You can promote your new event or product by using custom acrylic photo keychains, and you can also choose company building photos or environmental photos to tell customers information about your company. Or choose a factory photo or a photo about the product information to tell customers about the safety of your product.
4.Acrylic QR Code Keychain
QR code key chain is a novel way of sales promotion in today's society. You can set up the QR code of the product purchase page or the QR code of the company's official website and give it to customers. It allows customers to buy your company's products anytime and anywhere or to easily enter your company's official website to learn about your company. You can set different shapes or different colors of QR code keychains to attract the attention of customers and increase the popularity of your company.
Why Advertise with Acrylic Keychains?
The keychain can be used to decorate the readily visible personal items such as mobile phone or keys. Whenever customers see the keychain, itwill deepen their impression for your company.
Keychain can be used as promotional goods, beautiful and cheap, andalso to strengthen the interaction with customers.
Itcan enhance brand awareness and promote the company's products and services that people wear a keychain.
The acrylic keychain is a fashionable craft, and most people can't resist its beautiful appearance.
The business keychain kindly shows people the personality and style of the company, attracts everyone's attention, publicizes the company's information, improves the visibility of the company, and makes your company stand out among many competitors.