When referring to fridge magnet, we are usually referring to decorations or utilities that stick to the surface of the refrigerator.
Fridge magnet can be used not only as decorations, but also as a personalized display, souvenir or gift. They can add fun and personality to fridge magnet, whether used in individual homes or in commercial settings, magnetic fridge magnet are a popular choice.
There are many different types of fridge magnets, here are some common types of fridge magnets
Paper fridge magnet are the most common and affordable type, this type of fridge magnets are usually made of paper material with patterns, words or artistic designs printed on them. They can be flat or with a three-dimensional effect. Paper fridge magnets are usually made using printed paper, which can be coated or covered to increase its durability and water resistance.
Magnetic fridge magnets are made of magnetic materials. These fridge magnets usually have a magnetic bottom that stays in place by sticking to the surface of your refrigerator. Magnetic fridge magnets can be paper or plastic covered with magnetic material.
3D fridge magnet is a kind of fridge magnet with three-dimensional effect, which can add visual attraction and three-dimensional effect to the surface of the refrigerator. Its characteristic is that the graphics or graphics are protruding or concave in a three-dimensional shape, making it look more realistic and lifelike. This effect can be achieved by mold injection, embossing or other process methods.
Plastic fridge magnets are usually made of plastic materials such as PVC (polyvinyl chloride) or PET (polyethylene terephthalate). The material is water resistant and durable, making it suitable for use in freezer environments.
Acrylic fridge magnets are made using clear acrylic material, which is usually a hard and durable option. They can be transparent or translucent and can be personalized with printing, lettering or other decorations.
Rubber fridge magnets are made of soft rubber material with soft texture and durability. They can withstand regular use and handling without being easily deformed or broken. The rubber material itself has better grip and anti-skid performance. They are usually elastic and adhere easily to the surface of the refrigerator without sliding or falling off.
Wooden magnets are a unique and natural-looking refrigerator decoration. Made of natural wood, it retains the natural grain and texture of the wood. They bring a warm, rustic and natural aesthetic to refrigerator surfaces. Wooden magnets are usually crafted with meticulous care, including cutting, carving and sanding. This makes each fridge magnet unique, artistic and unique. Wooden magnets are a distinctive choice that add a natural, warm and personal touch to your refrigerator.
Metal magnets are made of metal materials, such as iron, copper, zinc alloy, etc. This type of magnet is usually metallic and sturdy, and can be decorated by engraving, branding or other processing methods.
In addition to the above material types, there are many other creative and special material fridge magnets to choose from to suit different individual needs and decoration styles. Fridge magnets can be used as decorations, reminders, schedulers, or a personalized display. They're an easy and fun way to personalize your refrigerator and give it a little more personal flair. Different material types can bring different appearances, textures and characteristics to refrigerator magnets, and you can choose the appropriate material according to your preferences and purposes. For example:
Places magnets are fun and functional decorations that showcase your travels, inspire your dreams, and serve as starting points for conversations and memories at home. It is often printed with famous sights, landmarks or city symbols to showcase the unique scenery and cultural characteristics of a particular location. Fridge magnets with iconic locations are often used as tourist souvenirs. Fridge magnets from different locations can be purchased or collected as souvenirs and memories of travel.
Such as Kuwait, Iceland, Ireland, London in England, San Francisco and Los Angeles in the United States, Krakow in Poland,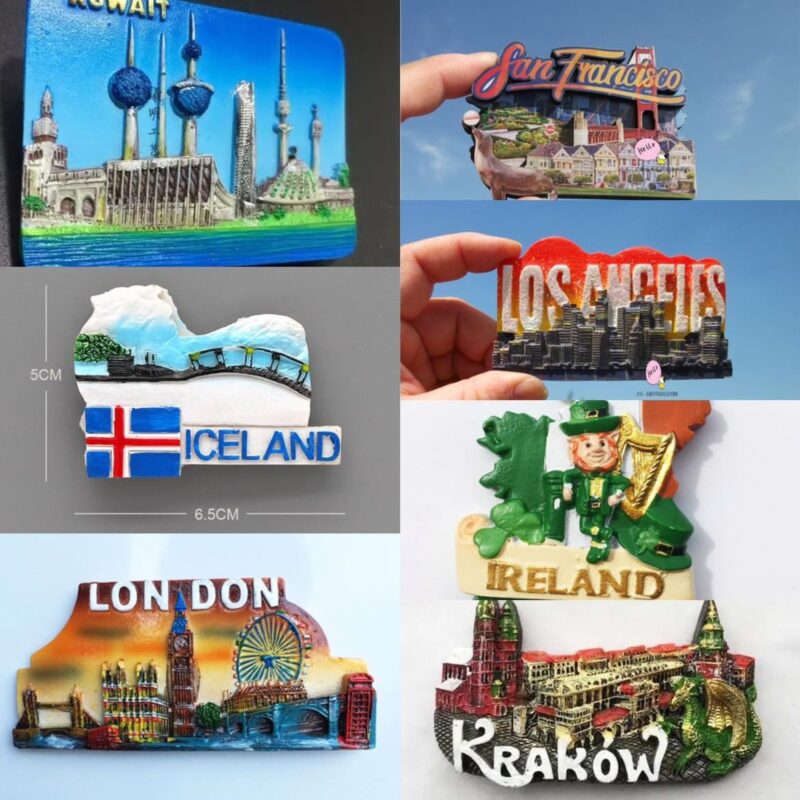 Some pictures come from the Internet, if there is any infringement, please contact us.
These magnets are covered with a rewritable coating, they are convenient and practical, you can use the eraser pen to write down memos, lists or messages, and then easily erase and update the content.
These fridge magnets are specially designed for kids, usually with attractive patterns, bright colors and kid-friendly designs.
This fridge magnet is made of luminescent material, which can emit a soft glow in the dark environment. You can write memos, lists or messages on the luminous magnet to make it easier to be noticed at night. They can create a fun glow-in-the-dark effect, making the fridge even more charming at night.
Alphabet and Number Fridge Magnet
These fridge magnets contain magnetic letters and numbers that you can use to spell words, leave messages, or create a personalized sign on your refrigerator. They have the advantage of adjustable position and layout.
This kind of fridge magnets are made of paper materials, but are made into various shapes and patterns through paper-cutting, origami, stickers and other handicraft techniques. They display unique artistic effects and bring more beauty to the refrigerator.
This kind of fridge magnet can print your photo on a magnetic material, which can be conveniently displayed on the refrigerator. You can turn photos of family, friends, or special moments into fridge magnets to personalize memories.
Bottle opener Fridge Magnet
It is a fridge magnet with the function of a bottle opener. It is a practical and convenient decoration that allows you to conveniently open the bottle cap when needed without taking up extra space. They combine the functionality of a bottle opener with the utility of a fridge magnet to bring convenience and versatility to your kitchen. Whether at home or outdoors, the bottle opener fridge magnet is a practical tool.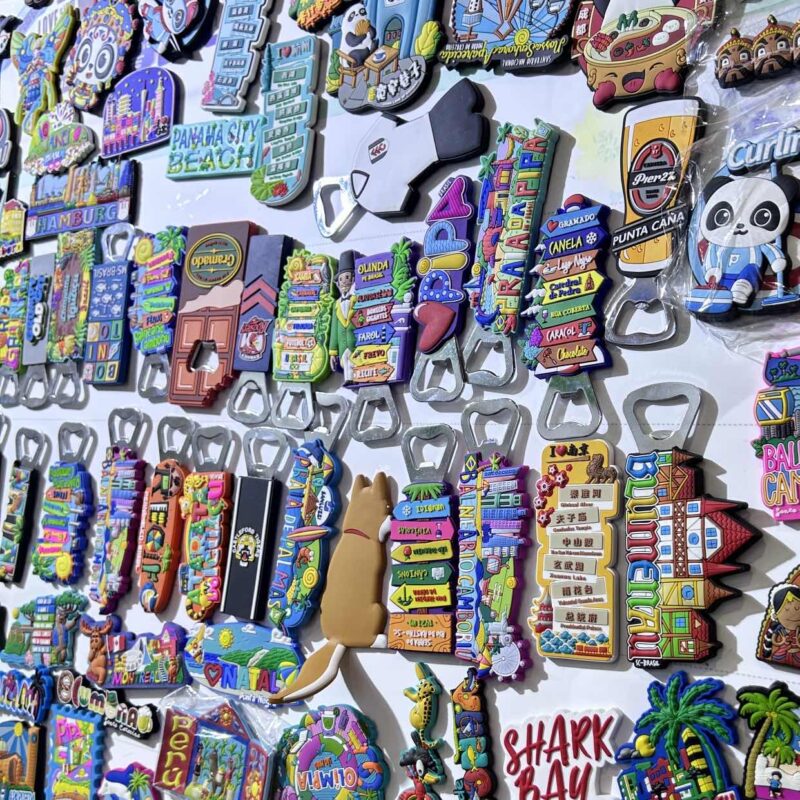 These creative and special material fridge magnets can help you achieve personalized decoration effects and show your creativity and personality. No matter what style or material you prefer, there's a magnet that's right for you.
The practicality of fridge magnets is mainly reflected in its convenience and visibility. Since fridge magnets can be attached to the refrigerator door at any time, we can check memos, schedules, recipes and other information at any time without additional search tools. In addition, the visibility of the fridge magnet is also very good, because it is pasted on the refrigerator door, and family members can see it at any time without additional reminders.
General Information about Fridge Magnets
Fridge magnets are mainly used for conveniently displaying information, reminders or decorative purposes in a home or office environment.
1. They are generally square or rectangular, but can come in a variety of other shapes and sizes. Fridge magnets often come in bright colors and fun patterns for an added decorative touch. These can be obtained through custom fridge magnets.
2. Durable and easy to clean: Acrylic fridge magnets are durable, resistant to breakage, and will not damage the surface of the refrigerator, suitable for daily use. They are easy to clean with a soft cloth or mild cleaning solution, allowing you to maintain their appearance and keep them looking fresh for longer.
Fridge magnets can be used to post message notes, sticky notes, or to-do lists on the refrigerator door. Its magnetic backing is attractive and allows you to attach papers, photos or small documents for easy access. They help you stay organized and keep track of important information in a visible and convenient way.
By attaching photos, illustrations, cards, or other decorative magnets, you can add some personal and warm style to your fridge. The clear acrylic casing gives the magnets a polished and professional look. The design or image is protected from scratches, dust and fading ensuring it stays vibrant and attractive time after time.
Many fridge magnets are designed to be educational, particularly for young children. They may feature alphabet letters, numbers, shapes, animals, or other educational content, providing a fun and interactive learning experience.
Some people collect fridge magnets from different places they have visited or as a hobby. These collections can showcase a person's travels, interests, or unique designs they find appealing.
Customized fridge magnets with brand logos are used as promotional gifts, and through the added value of free promotional gifts when purchasing products, consumers are directly stimulated to generate purchase behavior. Moreover, giving promotional gifts is an emotional investment, which can shorten the emotional distance between people, facilitate people's communication, exchange, reach consensus, and create good business opportunities.
In general, fridge magnets are a convenient, practical and decorative item that can help you organize information and reminders in a home or office environment. Fridge magnets can not only be used to keep notes and reminders, but also can be used as decorations and educational items. Custom acrylic fridge magnets are an affordable and versatile way to personalize your fridge, stick messages, or display keepsakes. They have become a common feature in many homes due to their decorative appeal and functional purpose. They provide a way to express your creativity, commemorate a special occasion, promote your business, or make a thoughtful gift that others will love.
Finally, fridge magnets come in a variety of decorative forms, including cartoon characters, landscapes, famous landmarks, food items, inspirational quotes, and more. They are popular souvenirs, gifts, and ways to add a personal touch to the look of your refrigerator. Hamfai can provide you with options to customize fridge magnets to suit your needs and preferences, styles and designs.