The acrylic keychain is a good way to match jewelry and add personalization. Rich colors, unique styles, and schemas with animation or scenery, can not only increase your own beauty and fun, but also make you stand out from the crowd,and firmly attract others' goals. Not only that, it also conveys your message to others, such as your preferences, your behavior style, your aesthetic. It can make you more friendly, make you make more friends.
In this blog, we will tell you about what an acrylic keychain is and how to buy it in our stores. What do you need to prepare and what steps to take. So, let's start it off!
What Is an Acrylic Keychain?
The acrylic keychain is one of the keychains. Of course, you can also wear it on other items, such as a mobile phone, a belt, or a backpack. It is a decorative item made of plastic or resin. Because acrylic materials are clear and friction-resistant, It is therefore perfect for displaying photos and designs.It can be made into any shape, any size, any design, to be used for how the occasion. It can be made into any shape, any size, any design, to be used for how the occasion.
The acrylic keychain, lightweight, durable, inexpensive, easy to customize and perfect for a unique work of art. It also has a variety of technique for you to choose from, such as the epoxy, holography, white background, clear background,and rainbow. Coupled with your design or photo, each acrylic keychain is very unique.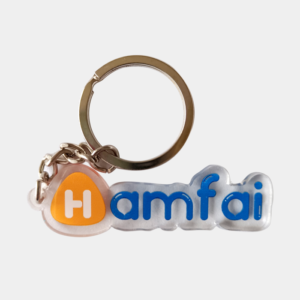 How to Buy Acrylic Keychains at Hamfai?
1.What do you need to prepare for this situation?
To customize the acrylic key chain, you need to have your own design or picture, which can be your own picture, a picture of your family, a pet or landscape, or a picture of your favorite anime character or game character. As long as the design and pictures are ok, but we need clear works and pictures, because the acrylic keychain will be more beautiful.
2.What are the operation steps?
First, select the print mode, size, technique, and accessories that you want. First, select the print mode, size, craft, and accessories that you want. Secondly, send your design draft or photo to us and click "Upload Artwork" to upload the file. Select the number of keychains you need and click "add the car". If you have a coupon code, enter the coupon code, click "apply coupon" and make payment.
If you have a lot of design drafts wanting to make acrylic keychains, you can package all the designs in a folder and change them to zip format and upload files.
Tip: If you want to print on both sides and your design contains text, remember to send us front and back designs. And when you flip the back image, keep the direction of the text. If you only send us photos on the front, then the text in the picture will probably reverse when we are doing the picture flip.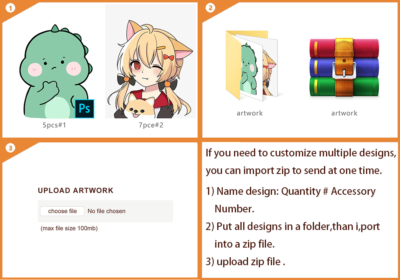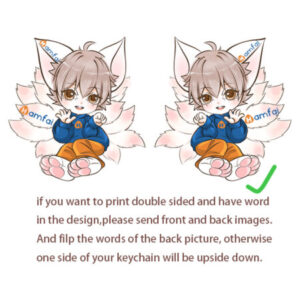 A custom acrylic key chain is a unique and creative idea, where you can customize a keychain that reflects your personal style and taste, or give it as a gift to a friend. From the above, you can learn that the custom acrylic keychain operation process is very simple, affordable, but significant. If you're also interested in other similar products, our store also has standee and pin&badges. The operation process remains the same, and you will have all the styles you want. What are you waiting for? You can enter the Hamfai home page to visit it.